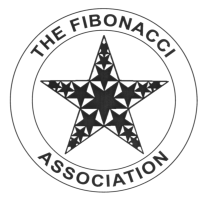 Subscribe

Publications

Conferences

Other Resources

Fibonacci Art

Number Theory

Other Sites

Problem Sites

Other Languages

Biographies
and Portraits
The Fibonacci Association

Official Website
---
The Fibonacci Association, incorporated in 1963, focuses on Fibonacci numbers and related mathematics, emphasizing new results, research proposals, challenging problems, and new proofs of old ideas.
---
Information about the logos
---
Publications of the Fibonacci Association
---
International Conferences
---
Other Resources on Fibonacci Numbers
---
Fibonacci Art
---
Number Theory in General
---
Other Recommended Websites
---
Problem Websites
Links are yet to be added.
---
Relevant Sites in Other Languages
---
Biographies and Portraits of Some "Fibonacci Personalities"
Here you will find thumbnail sketches, with links to biographies and larger pictures.

See a larger version of this picture, with some information.
---
Password-protected internal pages
Created and maintained by Karl Dilcher, in collaboration with the Board of Directors of the Fibonacci Association. This site is hosted by the Department of Mathematics & Statistics at Dalhousie University in Halifax, Nova Scotia, Canada.