German


Guatemala
A Travel Report
by Peter Selinger
Antigua, Guatemala, August 17, 1997
Today is my last day in Guatemala, and before I return to my `regular' life, I have some spare time to relax and to write this letter. I have spent four weeks learning Spanish, first in Antigua, then in Quetzaltenango. I have met a lot of interesting people, and I took the last few days off of school to travel to Lake Atitlán with some friends. But they have left now; I took them to the airport yesterday.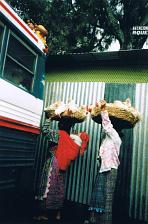 Baskets of live chickens are being loaded onto the roof of this bus.
Guatemala is unique among the Central American countries because of its culture and its stunning geography. Sixty percent of the population are native Mayas, and they are famous for the beautiful textiles that they weave. Five hundred years of discrimination and thirty years of civil war have left deep scars in this society that will take a long time to heal. Yet, the country is rich with a unique culture that seems to have survived from pre-columbian times. Most of Guatemala consists of remote and rural areas, where the people do not understand Spanish. About thirty different Indian languages are spoken in Guatemala today. On the other hand, in the larger cities the Ladino, or Latin, culture is dominant. The Guatemalan civil war was an uneven massacre in which a well equipped Ladino army fought against inadequately armed Mayas, often raiding their villages and slaughtering civilians. The government perfected the use of terror, and openly critical writers, journalists, and politicians, or those that were suspected of being critical, were frequently `disappeared' by the army. I met some Guatemalans whose friends or relatives have disappeared in this way. Today, following last December's peace agreement, there is a sense of relief and some hope, even though most people are still very skeptical and reluctant to trust the government. The end of the civil war has brought about new problems, such as an abundance of former soldiers, secret policemen, and guerillas who have lost their jobs and who are not prepared to work in civilian occupations. Many of them continue to do what they were once trained for, and armed assaults and waylaying by unorganized groups of bandits have become a major problem.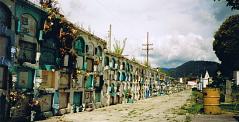 At the cemetery in Quetzaltenango, the dead are neatly squared away. Even the outer wall of the cemetery serves as a Mausoleum.
Still, it would be wrong to picture Guatemala as a battle field. There is some crime, and the streets are not safe at night, but I have felt equally unsafe in Philadelphia, and at times even more so. At this moment, I am sitting on a park bench in Antigua's central park, in the pleasant shade of the trees. Despite our proximity to the equator, the climate is surprisingly moderate. This is because Antigua is in the highlands, roughly 2000 meters above sea level. Because of the altitude, the sun is very intense, and I have a straw hat to protect myself from its rays. I am listening to the timeless rhythms of a group of drummers who have settled down next to a fountain. Someone is blowing soap bubbles. Maya women and children are passing by in colorful outfits, offering all kinds of textiles which they balance in baskets on their heads. A few gringos (usually Americans or Europeans in shorts) are buying flutes, necklaces, carpets, and bags of nuts.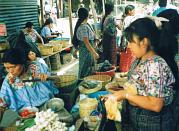 Colorful outfits at the market in Santiago Atitlán.

The atmosphere in the park is always festive, also because of the many holidays. For example, July 25 was the festival of San Tiago, and the day before yesterday was Maria's Ascension Day. Guatemala's national musical instrument, the Marimba, is a wooden xylophone which is played
Jill playing with children in "La Pedrera", a rural community outside Quetzaltenango.

simultaneously by three or four men. It is sometimes hard to escape from the eternally merry Marimba music, which can be an enormous drag on the nerves. The national bird, the Quetzal, is threatened by extinction and is not able to survive in captivity. `Quetzal' is also the name of Guatemala's currency, with about 6 quetzals equaling one U.S. dollar.

Guatemala, like all of Central America, is seismically very active. There are hundreds of large and small volcanos, many of which are active. In Antigua, earthquakes are so frequent that there are no multi-story buildings. This small town was built by the Spanish, who intended it to be the seat of their colonial government. Following the style of that time, they constructed lots of pompous buildings and churches. Not surprisingly, within a few years Antigua was destroyed by earthquakes, and the government was moved to today's Guatemala City. Antigua was abandoned, but the ruins of the colonial churches, with cracked walls and collapsed roofs, can still be seen there. Today, Antigua is mostly known for its language schools, and it deserves the nickname `Gringotenango', which means tourist place. I spent only one week there and then went to Quetzaltenango. This city, which is also known by its old indian name Xelaju, or Xela, is larger and less touristy. It is located in the mountains to the west, and is even higher in altitude than Antigua. One morning two weeks ago,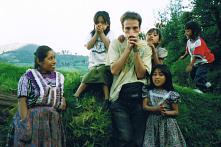 We gave English lessons to these children twice a week.

I woke up at night as the house was shaking. I was not quite awake, and I remember thinking that it was odd that the washing machine was spinning so early in the morning. I went back to sleep. In the morning, at breakfast, I realized that my host family didn't even have a washing machine, and that it must have been an earthquake.

The standard of living in Guatemala, like elsewhere in the `Third World', is relatively low. This is a poor country, and many families in rural areas make a living plowing a small patch of earth on their hands and knees, often on the steep slopes of the mountains, trying to grow some corn and a few vegetables. In many areas, not even basic medical services are available. Since the tap water is not drinkable, I brush my teeth with bottled water. Hot water for showering exists only through dangerous looking electrical devices on the shower heads, and I was electroshocked once. One cannot throw toilet paper into the toilet, because it will clog the plumbing. Instead, a small bucket is always provided for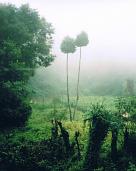 Morning mist rises as we begin to climb the volcano Santa Maria.

that purpose. The houses are simple and usually consist of an inner courtyard surrounded by an outside wall to which the rooms are attached on the inside. Since the climate remains the same throughout the year, the houses need neither heat nor insulation. In some remote areas there is no electricity or running water. Even in Xela, the electricity failed almost daily. To install a new phone line takes up to two years. But despite these quirks, people seem to get by. Food is cheap and readily available, and most people seem to have enough to eat. Some families, such as my two guest families, are making some extra money by hosting language students. Tourism and exports are important staples of the Guatemalan economy, and for those who can afford it, the luxuries of modern life are also available. For instance, any number of internet cafes have opened in places like Guatemala City, Antigua, and Panajachel in the last couple of years, which is a stark contrast to the desolate and often dysfunctional telephone system.

The usual mode of travel is by bus, or,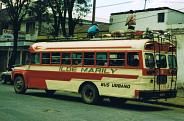 Some live pigs are traveling on the roof of this bus in Xela.

for those with enough cash, by minivan. The busses, also known as chicken busses, are old school busses from the United States or Canada, equipped with railings to keep the baggage from falling off the roof. The term `baggage' includes, besides suitcases, backpacks, and bundles, also chickens, dogs, and pigs. Each bus driver operates as an independent entrepreneur, and consequently they will never leave town until they have filled the bus. This means, there have to be at least 3 passengers per double seat, and people standing in the aisle front to back. On the chicken bus, I often got into conversations with Guatemalan seat neighbors. All of them were extremely friendly, even outgoing. They were proud of their beautiful country and seemed to feel personally responsible that I got a good impression of it. On the way to Xela, I asked my local seat neighbor how to get to the address of my school, and he took it upon himself to accompany me all the way to the doorstep. He even paid for my bus fare on the city bus (which was about 8 cents).


*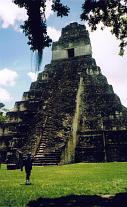 The Maya culture that built these massive temples vanished long before Columbus arrived in America.
I have some more time to write in a little more detail about the things I've done here. I arrived on a Friday afternoon, five days after Jeny and I had left Germany. At the airport in Guatemala I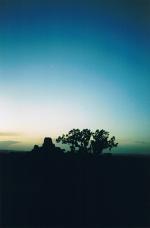 Sunset over the jungle El Petén.

first thought that my backpack had been lost; fortunately it turned out that I had been waiting at the wrong baggage claim. A representative of Amerispan, the organization through which I had booked this trip, picked me up at the airport and delivered me to my family in Antigua. On Saturday, I immediately flew to Tikal. Tikal is the site of a Maya civilization that mysteriously perished 1000 years ago and that has only been rediscovered about 100 years ago. It is located in the heart of the jungle El Petén and consists of several hundred large and small temples and structures, which were completely overgrown and are still being uncovered. If I remember correctly, Tikal was the inspiration for the lost city in the Jungle Book, and one scene from the `Return of the Jedi' was filmed there. Some of the large temples are up to fourty meters tall, and many buildings contain artifacts. As a place, Tikal is very mystical, and the fall of the Maya culture around the year 900 is one of the large unresolved mysteries in archeology. On the way to Tikal, I met some people who studied in the same school in Antigua as me. Saturday night around 6:32pm, we admired the sunset from a temple called `Lost World'. As the sun disappeared, a full moon rose behind us to the sounds of an awakening nocturnal jungle. Sunday morning I got up at 4am to watch the sunrise from a different temple. On the way there, I lost not only my tour group, but also my flashlight, and suddenly I was alone in the jungle, where the moon peeked only occasionally through the branches. I was surrounded by howler monkeys and alarmed birds.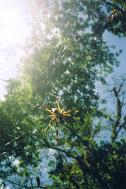 A spider guards its web in the morning sun in Tikal.

Since that jungle also has jaguars, which hunt at night, I was a little frightened and took shelter at an altar that was used 1200 years ago for cutting people's hearts out. Fortunately someone came and we got to our temple in time for the sunrise; however, it was so foggy that we did not see the sun coming up.

Monday, back in Antigua, I started language school. With four hours of instruction per day and one student per teacher this was quite efficient.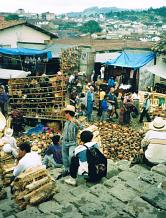 The market in Chichicastenango.

The school was called `Projecto Bibliotecas Guatemala' (Probigua), and it existed for the purpose of founding libraries for school children in surrounding villages. This happens roughly twice a year, and it was lucky that we happened to found a library on the Friday when I was there. A bus took us to a village about an hour away which was called something like `Alta Vista' or `Bella Vista'. There, we went to a school consisting of a few buildings in which they taught children up to sixth grade. The roughly fifty children were cute and performed some dances and songs and read some poems for us. They were impatient to look at the approximately 100 books that we had brought, and as soon as the formal dedication had ended, they started reading them.

On Saturday I went to Lake Atitlán with a friend, Carola. From Panajachel, a city with a tourist market, we took a boat across the lake to Santiago, where there was supposed to be a festival for San Tiago Day. From the water front, we walked past the market and continued towards the center of town, looking for the festival. When we walked past a store, we heard music and went inside. In the back room of the store, we found a group of men drinking and playing various musical instruments. Carola, who already spoke Spanish a lot better than I did, got into a conversation with one of the men, and after swapping some drinks, she found out that the band had come from a different village because of the festival, and that they were touring from house to house to perform their repertoire, which consisted of three different pieces. After swapping some more drinks, they invited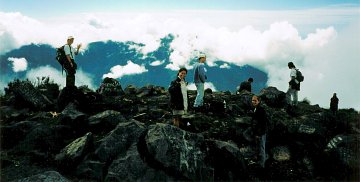 On the summit of the volcano Santa Maria, we could see the Pacific on one side, and the mountains of Mexico on the other.

us to come along with them. We arrived at the next house, where we and the band were ushered into a festively decorated room. On one side of the room, there was an altar. A few people, presumably the inhabitants of the house, were worshipping at the altar. In Guatemala, there is a strange saint called St. Simon who smokes a cigar and is worshipped by `sacrificing' him alcohol. The band played their three songs, and some men started dancing, while Carola and I tried to stay in the background. Carola wanted to ask the owners if she could take a few pictures, but it turned out they did not understand Spanish, only Quiché. So she took some pictures anyway. Then the band leader suggested that she should send some prints to the owners, and they tried to get them to write down their address. But apparently they didn't have an address, and so they only gave her their name and the name of the village. I'm curious to know if they ever got any photos. Afterwards we had to rush to our boat.

On Sunday, I took a minivan to Chichicastenango, a town in the mountains that has market days on Thursdays and Sundays. At the market, they sell colorful handmade things, especially hand-woven textiles in different traditional patterns. The market in Chichi is very large, but I didn't want to buy too many things in the first week. But I got some bananas for a couple of children that were hanging out on the steps of a church, asking for food.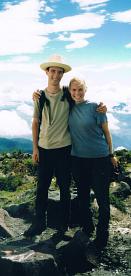 At 3000 meters of altitude, a hat can be crucial.
Sunday evening I took a bus to Xela and moved in with my new family. Again, I went to school Monday through Friday, this time five hours a day. In the afternoons, the school offered activities such as lectures on the civil war, on the life of intellectuals during the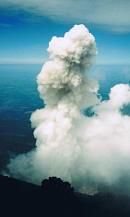 The volcano Santiagito erupted in front of our eyes, sending a pillar of steam into the sky.

exile, on the health system in Guatemala, etc. One day an author came to dedicate books. Twice a week we could volunteer to teach English to children from a nearby community. Our guest families provided three daily meals, but I often went out for dinner with friends from school, because it was so cheap and also more fun.

The next Sunday, a few friends and I went on a tour to climb the volcano Santa Maria. Santa Maria is not an active volcano, but it is one of the tallest ones in the area. Twelve of us left at five in the morning, before sunrise, with two Canadian guides. The ascent took about four to five hours, and we were rewarded with good weather when we got to the top. One of the men in the group started having symptoms of a light sun stroke, and at 3000 meters altitude and 15 degrees latitude, I was glad I was wearing my hat. From the summit we could see all the way to Mexico and to the Pacific. But the highlight of the trip was when the nearby, smaller volcano Santiagito erupted in front of our eyes, sending a pillar of steam 1000 meters tall into the sky.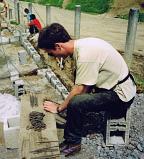 Working for "Habitat for Humanity", my job was to bend little straight metal pieces into hooks.
On Tuesday, a few students from the language school went to a hot spring with our teachers. There was a pool, which was fed directly by hot water from the mountain, and we bathed there for several hours, surrounded by cliffs and lush vegetation. Tuesday evening there was a dancing class. Saturday we volunteered with `Habitat for Humanity' to help build a house. This international organization (under the patronage of former president Jimmy Carter) works with volunteers to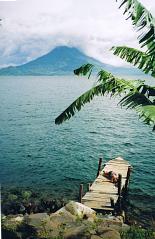 Paradise at Lake Atitlán.

build economical, simple and sturdy houses to help secure a minimum standard of living for very poor families. We arrived with fifteen people, and for three hours, we bent steel rods, carved bricks into shape with machetes, sieved sand, and carried stones. Then we ran out of work, because they had not expected so many volunteers that day. In Guatemala, it takes Habitat for Humanity about two weeks to finish a house.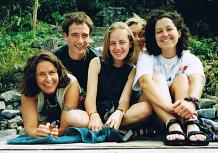 Relaxing in Santa Cruz.
Jill, me, Sara, Hilary, Kathleen.

In the following week, I took only 15 hours of classes and left Tuesday afternoon to spend a few days at Lake Atitlan with friends. We enjoyed the luxury of relaxing for a few days, which is all the more tempting if one can stay in hotels for less than five dollars per night. During that last week, I was overcome by a buying frenzie, used up all my cash, and doubled my luggage. I had to buy clothing anyway, and it was very cheap. Unfortunately I didn't have a credit card with me, because I had lost it in Poland the month before. Yesterday I saw my friends off at the airport, and because my flight is tomorrow, I had two days to myself in Antigua. Tomorrow I will leave for the airport at 4 a.m. I have safely tucked away the fifty quetzales for the airport tax, and now all I have to do is to wait for the minivan to pick me up in the morning.

* *


To my Homepage:

Updated Sept 7, 1998