lesen I v/t 1. read. II v/i 2. read (in dat in, aus from). vorlesen v/t to read aloud.
Abend m evening, night. abends adv in the evening(s). Abendvorstellung f thea. evening performance.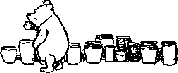 A Leseabend is a `read-along': people bring books and read to each other aloud. Anything can be read at a Leseabend: short stories, poetry, a chapter from your favourite novel...
The first Leseabend is on Friday, March 8, 1996, at Peter Selinger's house at 4615 Hazel Avenue. It starts at 8pm.
All are invited. Bring your favourite books to read from. Whether it is funny, moving, meaningful, entertaining, recent, ancient, avantgarde, classic - read it at the Leseabend.
Tea will be provided. Snacks are welcome.
Questions?

Email selinger@math.upenn.edu

or call DUMBO-13.