Preprints
Papers
Selected conference presentations and talks
Law of mass action and saturation in SIR model with applications to coronavirus. , talk given at CAIMS-PIMS corona conference (June 2020). Abstract: It is common in SIR models to assume that the infection rate is proportional to the product S*I of susceptible and infected individuals. This form is motivated by the law of mass action from chemistry. While this assumption works at the onset of the outbreak, it needs to be modified at higher rates such as seen currently in much of the world (as of June 2020). We propose a physics-based model which leads to a simple saturation formula based on first principles incorporating the spread radius and population density. We then apply this modified SIR model to coronavirus and show that it fits much better than the ``classical'' law of mass action. CRM/McGill Applied math seminar, Montreal, March 2011
Instability thresholds for a cross-diffusion model and for a crime model , Croucher advanced study institute, Hong Kong, March 2011.
Exact solutions and dynamics for the aggregation model with singular repulsion and long-range attraction , joint AMS-SIAM meeting, New Orelans, January 2011.
Boundary value problems with very sharp structures: numerical challenges , BIRS workshop on geometric and numeric tools for differential equations, Aug 2010.
Ring patterns in patrticle aggregation models , CAIMS meeting, July 2010, St.John's Newfoundland.
A simple PDE model of self-replication in any dimension , CMS Winter meeting, Dec 2009, Windsor, Canada.
Combinatorics and PDEs Abstract: How many solutions does the equation +/-1 +/- 2 +/- 3 +- . . .+/- n = 0 have? In the limit of large n, we derive an asymptotic formula by using the fundamental solution of the heat equation.
Boundary value problems with extremely sharp interfaces , Bluenose numerical analysis days, Dalhousie, June 2008
Ring and smoke-ring solutions in Gierer-Meinhardt model , Second Canada-France Congress, June 2008
Stability of curved interfaces in the perturbed two-dimensional Allen-Cahn system , Applied math Seminar, invited speaker, George Washigton University, 2007.
First Joint CMS/SMM Meeting, Guanajuato, Mexico, 2006, Spot replication in Belouzov-Zhabotinskii reaction.
Invited speaker, Workshop on reaction-diffusion systems, Hong Kong 2006.
Self-replication in reaction-diffusion systems, Limit Problems in Analysis, May 2006, Leiden.
Coarsening and self-replication of mesa patterns in reaction-diffusion systems, Dalhouse colloquium, February 2006
The Q-switching instability in passively mode-locked lasers CLEO 2005, Munich, Germany
Spots, stripes, and labyrinths in reaction diffusion systems, SIAM Dynamical systems 2005, Snowbird, Utah
Mesa-type structures and their stability in the Brusselator , Free boundary problems: theory and applications, June 2005, University of Coimbra, Portugal
Young mathematicians Conference in PDE and Dynamical Systems (Jan 2004). Speaker, Stripe Instabilities in the Two-Dimensional Gray-Scott Model
SIAM Dynamical systems conference, Utah (May 2003). Speaker, Near-shadow Gierer-Meinhardt system: spike bifurcations and spikes near the boundary
BIRS workshop on pattern formation, Alberta (August 2003). Speaker, Coupled regime of the Gray-Scott model: self-replication and oscillatory instabilities
With E.S. Cheb-Terrab and A.D. Roche, 1999, The Search for and Classification of Integrable Abel ODE Classes. Poster for ISSAC 1999
Other
PhD thesis: Pattern formation in reaction-diffusion models far from the Turing regime, 2004. Supervisor: M.J. Ward.
T. Kolokolnikov, Braxton Osting and James von Brecht, Algebraic connectivity of Erdos-Renyi graphs near the connectivity threshold , unpublished.

Toroidal knots and their stability, from the paper: T. Kolokolnikov, C. Ticknor, and P. G. Kevrekidis, Toroidal Vortex Filament Knots and Links: Existence, Stability and Dynamics



T.Kolokolnikov, Mathematics on the chopping block Mathematical Intelligencer, Dec 2017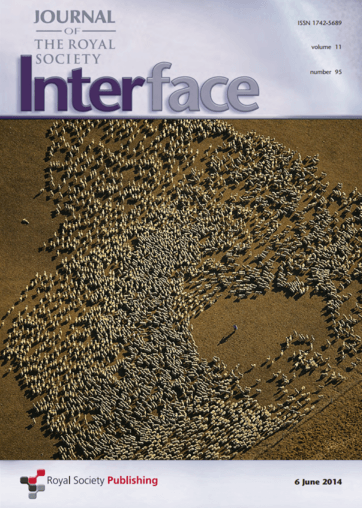 Flock of sheep in Argentina avoiding the shepherd in the middle. Photograph by Yann Arthus Bertrand. To accompany the paper Yuxin Chen and Theodore Kolokolnikov, A minimal model of predator-swarm dynamics, Journal of the Royal Society Interface 11:20131208 (2014)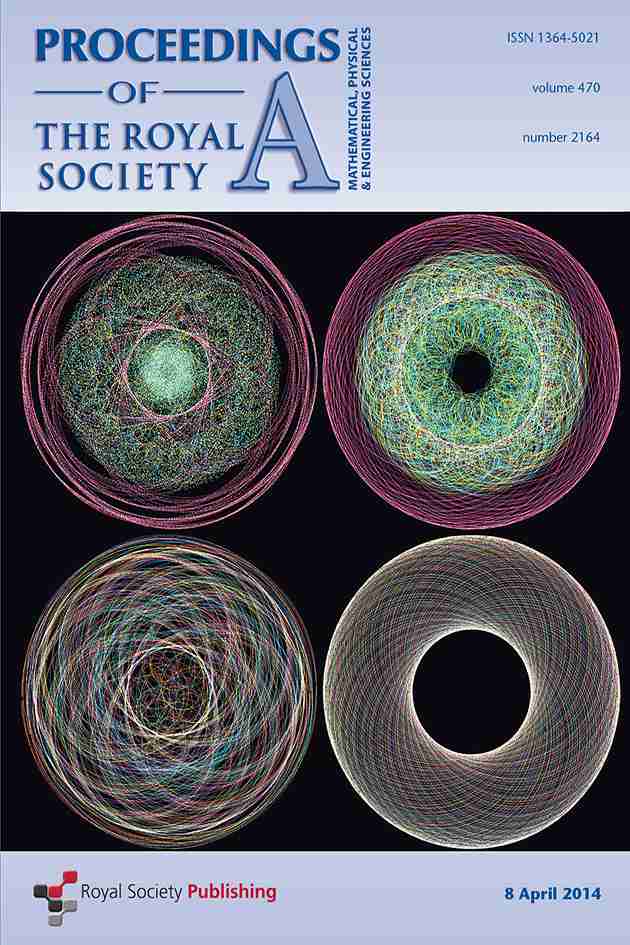 Cover image for Proceedings of the Royal Society A, to accompany the paper Collective behavior of large number of vortices in the plane by Y.Chen, D.Zhirov and T.Kolokolnikov.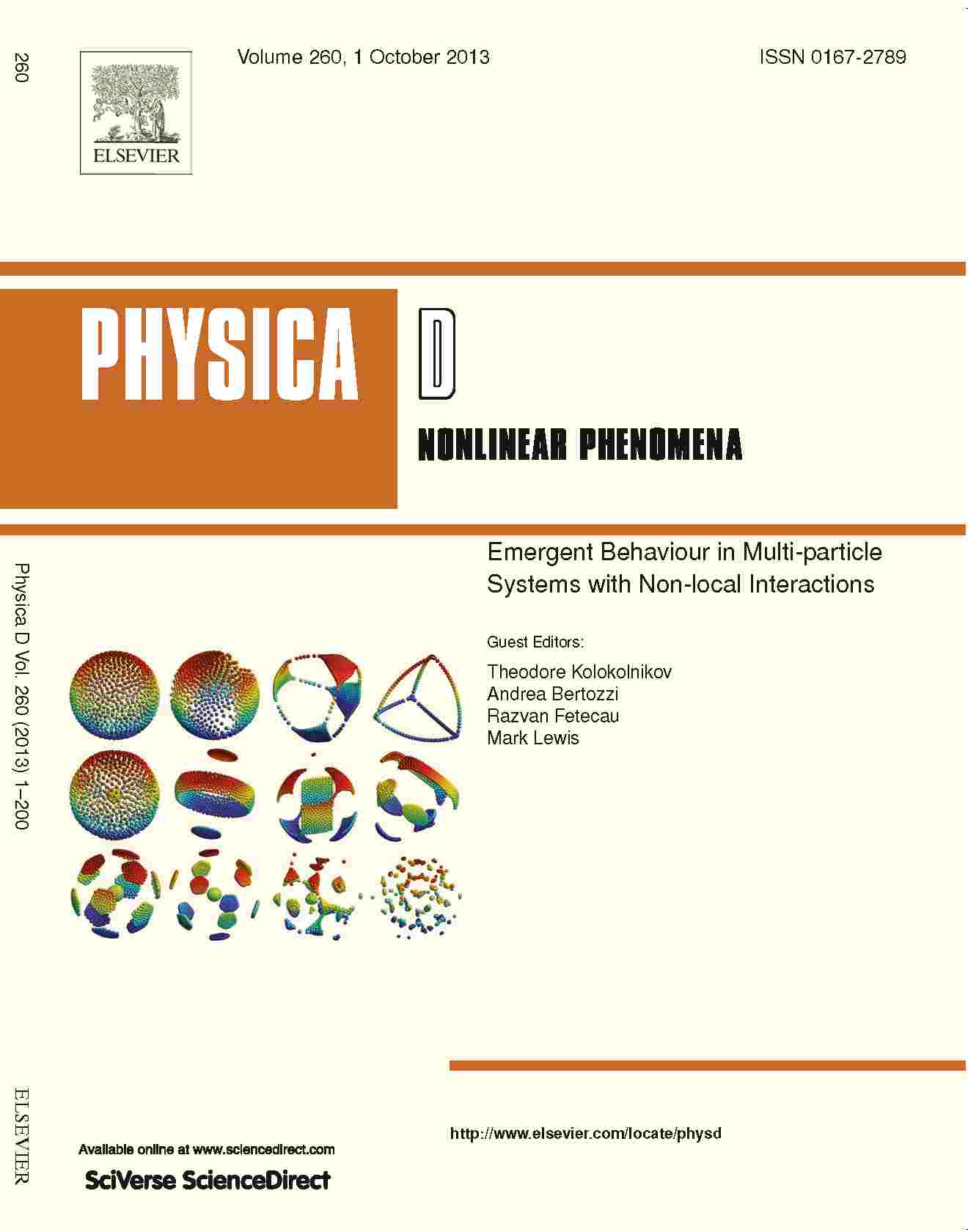 Physica D, Volume 260, (1 October 2013) Special issue on Emergent Behaviour in Multi-particle Systems with Non-local Interactions, edited by Theodore Kolokolnikov, Andrea Bertozzi, Razvan Fetecau and Mark Lewis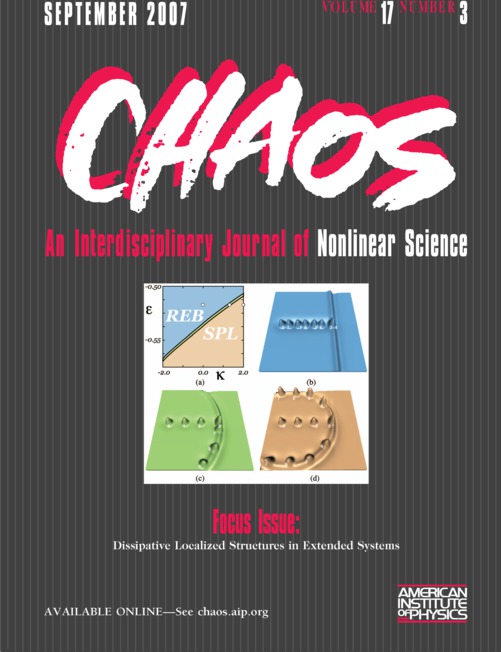 Chaos 17, 037101 (2007), Focus issue on Dissipative localized structures in extended systems, edited by Mustapha Tlidi, Majid Taki and T. Kolokolnikov. Cover artwork by Yasumasa Nishiura.