Travel and Fun
---
Read my 1997 travel report on Guatemala
.

Some funny True Stories.
My YouTube channel:
About Halifax:
Local links:
Travel:
Maps: MapQuest. Mq Canada.
Canadian Postal Codes
Travel Agents: STA, Council Travel, Travel Cuts, Travelocity, Expedia, Cheap Seats Travel.
City Guides: Excite Destinations.
Transportation and Schedules: Greyhound U.S., Greyhound Canada, Voyageur, German Railway.
Entrance Requirements: Argentina.
German Embassies and Consulates: Ottawa, Washington.
Canadian Embassies: Berlin, Washington.
U.S. Embassies: Berlin, Ottawa.
Today's Exchange Rates and Daily Exchange Rates since 1995. Universal Currency Converter. FX Currency Converter.
Conversions.
The exact time: U.S. Naval Observatory.
United States ZIP Codes.
Current Satellite Images: Europe, U.S., Canada.
Map of Crystal Crescent Park.
Language:
Bilingual Dictionaries: Foreign Languages for Travelers (complete with sound). German-English Dictionary. French-English Dictionary.
Translation: Google Language Tools
Dictionaries and Encyclopedias: Merriam-Webster's Dictionary and Thesaurus. Encyclopedia Britannica. Encyclopedia.com. Wikipedia.
Style Guides: English Usage Guides.
Spanish Language Schools in Central America: Amerispan, ILISA, Spanish Abroad. Habla Ya Panama. Diversity School.
The Bible, searchable in 10 languages.
Radio Canada: La Premiere Chaine (in French).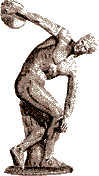 Fun, Arts, and Movies:
Wise Old Sayings.
Here are some fun JavaScript games: Lights Off, Move Them.
Aikido: Kokikai Aikido Ann Arbor. Aikido Kokikai Federation USA. AikiWeb.
Nobel Prizes.
Some Poetry.
Torus and Klein Bottle Games.
Lemonade Stand.


QuasiTiler.
Fight Spam! SpiderKiller.
Movie Database.

Back to Homepage:

---
Peter Selinger / Department of Mathematics and Statistics / Dalhousie University
selinger@mathstat.dal.ca / PGP key